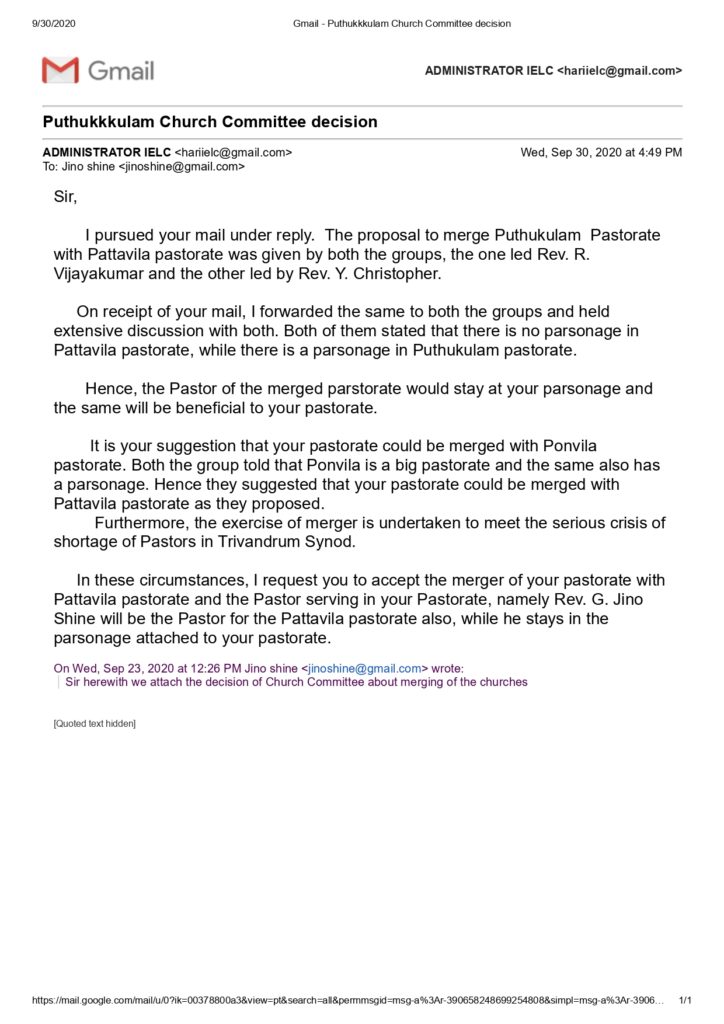 Mail from the Pastorate.
From
The Executive Committee
Rev. Paul. T. Schirmer Memorial Lutheran Church
Puthukkulam
Ponvila Circle, Trivandrum Synod, IELC
To
The Respected Justice D. Hariparanthaman (Retd.)
Administrator, IELC
Respected Administrator,
Sub: Regarding proposal of merging Churches Puthukkulam and Pattavila
Greetings in the name of Saviour Jesus Christ
At the outset we express our heartfelt thanks for your great efforts to lift up our Church from the present sinking stage.
We come to know from the website that our Church is going to be merged with Pattavila Lutheran Church. On behalf of the congregation we would like to bring your kind attention to some of the practical problems regarding this matter.
Our Church is one of the youngest churches of IELC.  It is small in membership and growing gradually with the work of a full-time pastor. Pastor's full attention in Church activities is much needed for the development of the Church. Church's primary aim is Evangelisation. Merging will affect evangelisation of the church and it will also affect the present development of the Church negatively.
The distance between Puthukkulam and Pattavila is nearly 15 Kilometres and it takes more than 30 minutes to reach Pattavila from Puthukkulam. Most of the members of our Church come from long distance. Sunday worship is fixed at 8.00 am for the convenience of the members. Merging Churches must lead to shift in time. Members may not be able to attend if the worship time is changed it will affect the present growth of the Church.
Every Sunday after worship we have nurturing programmes like Sunday School, Balar Samajam, Women's Leage and Youth fellowship. Church pastor controls and leads these activities. We don't have efficient personalities to lead nurturing programmes. Growth of the Church depends upon the activities of these programmes. Pastor will not be able to lead nurturing programmes if the Churches are merged.
Since the merging affect the growth and development of the Church and collapse all the present activities, with all respect we humbly request you to rethink this matter and take an appropriate decision which would be helpful for our mission and vision.
Our humble suggestion
Sir, Puthukkulam Church is the baby Church of Ponvila Lutheran Church. Ponvila Church is our Mother Church and they have been helping us in various ways in our daily activities. This is Ponvila Church which helped us to buy land for Church and parsonage. And with their support and help we could construct Church building as well as parsonage. Ponvila Church is one of the biggest congregation of IELC and needed the service of one more Pastor. Ponvila Church is very near to our Church only 1.5 Kilometres distance. If you merge Puthukkulam Church with Ponvila Church it would help in many ways in fulfilling the mission both churches.
Yours Faithfully
T.S Clement
(Church President)(9349154753)
Anoj S. M.
(Church Secretary)